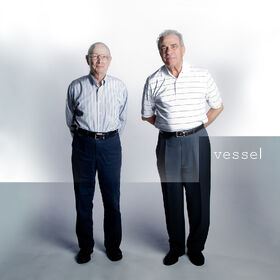 Album artwork
Car Radio is the fifth song on the album Vessel. It was recorded in Los Angeles and is produced by Greg Wells. Car Radio also served as the fifth single from the album, released on March 18, 2014. The music video was posted to Fueled by Ramen's YouTube channel on April 19, 2013. The song was originally recorded for Regional at Best, and was released in 2011, before the album was discontinued following the band's first major label signing.
Commentary
Following the release of Vessel, Spotify shared an exclusive commentary by Tyler Joseph for each track on the standard edition.
This next song, "Car Radio", is an interesting one. I really don't remember making decisions on the structure, it just happened and I don't remember slaving over when to bring in the beats, when to stop the beat…it just—it was one of those songs that just kind of happened for me when I was demoing it out, it just—the structure just seemed so natural to me. And when I was done with it and I was showing other people, that's when I realised that it's a very unnatural song…but it just worked for me, so that's kinda why I stuck to it. It's one of those songs where, when we show people our stuff for the first time, they don't really get that one, but I kinda like that. And so the song "Car Radio" actually is about—I was going to college, and my car radio got stolen out of my car and, I don't know if anyone's like me, but whenever you get into a car the first thing you do is turn on music and I was unable to do that for a while. Of course, I'm an emotional dude so I wrote a song about it. But it was interesting to see how, when I remove the distraction of music from my life and my car, where my brain would go. You know the thoughts that would go through my mind. It was interesting and I still encourage people to take some time to just sit in silence every once in a while 'cause a lot of things can come out. A lot of things that need to come out, come out, so that song reminds me of that time in my life and that lesson that I learned.
Official Video
Versions
"Car Radio" was originally recorded for Regional at Best, but following the band's signing with Fueled by Ramen and subsequent discontinuation of the album, the song was re-recorded and included on the album Vessel.
A live performance of "Car Radio" at the LC Pavilion was uploaded to Fueled by Ramen's YouTube channel on May 29, 2012. "Car Radio" (Live at LC Pavilion) was recorded at a show on April 28, 2012.
Another live version, recorded for The Live Room was uploaded to The Live Room powered by Warner Music's YouTube Channel on April 29, 2013. This was recorded at Sunset Sound Studios in Hollywood, CA.
A live performance of "Car Radio" at the Newport Music Hall was uploaded to twenty one pilots' Youtube channel on January 12, 2012. "Car Radio" (Live at Newport Music Hall) was recorded at a show around November 19, 2011.
Lyrics
I ponder of something great
My lungs will fill and then deflate
They fill with fire, exhale desire
I know it's dire my time today

I have these thoughts, so often I ought
To replace that slot with what I once bought
'Cause somebody stole my car radio
And now I just sit in silence

Sometimes quiet is violent
I find it hard to hide it
My pride is no longer inside
It's on my sleeve
My skin will scream reminding me of
Who I killed inside my dream
I hate this car that I'm driving
There's no hiding for me
I'm forced to deal with what I feel
There is no distraction to mask what is real
I could pull the steering wheel

I have these thoughts, so often I ought
To replace that slot with what I once bought
'Cause somebody stole my car radio
And now I just sit in silence

I ponder of something terrifying
'Cause this time there's no sound to hide behind
I find over the course of our human existence
One thing consists of consistence
And it's that we're all battling fear
Oh dear, I don't know if we know why we're here
Oh my, too deep, please stop thinking
I liked it better when my car had sound

There are things we can do
But from the things that work there are only two
And from the two that we choose to do
Peace will win and fear will lose
There's faith and there's sleep
We need to pick one please because
Faith is to be awake
And to be awake is for us to think
And for us to think is to be alive
And I will try with every rhyme
To come across like I am dying
To let you know you need to try to think

I have these thoughts, so often I ought
To replace that slot with what I once bought
'Cause somebody stole my car radio
And now I just sit in silence

And now I just sit in silence
And now I just sit
And now I just sit in silence
And now I just sit in silence
And now I just sit in silence
And now I just sit

I ponder of something great
My lungs will fill and then deflate
They fill with fire, exhale desire
I know it's dire my time today

I have these thoughts, so often I ought
To replace that slot with what I once bought
'Cause somebody stole my car radio
And now I just sit in silence
Credits
Writers and producers
Tyler Joseph and Greg Wells
Recorded by
Ian MacGregor at Rocket Carousel Studio Los Angeles, CA
Programming
Tyler Joseph and Greg Wells
Piano, keys and ukulele
Tyler Joseph
Drums and auxiliary percussion
Josh Dun
Vocals
Tyler Joseph
Additional synths and keyboards
Greg Wells
Mixed by
Greg Wells at Rocket Carousel Studio Los Angeles, CA
Mastered by
Howie Weinberg & Dan Gerbarg at Howie Weinberg Mastering, Los Angeles, CA
Published by

Warner-Tamerlane Publishing Corp (BMI) / Fueled By Music (BMI) / Stryker Joseph Music (BMI)
All rights on behalf of itself and Stryker Joseph Music
Administered by Warner-Tamerlane Publishing Corp