Fake You Out is the ninth song on the album Vessel. It was recorded in Los Angeles and is produced by Greg Wells.
Official Audio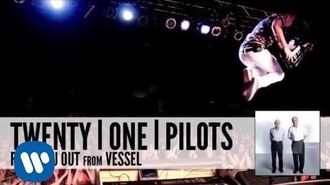 Versions
A live performance of Screen at the LC Pavilion was uploaded to The Live Room powered by Warner Music's YouTube Channel on August 19, 2013. Screen (Live at LC Pavilion) was recorded at a show on April 26, 2013.
Commentary
Following the release of Vessel, Spotify shared an exclusive commentary by Tyler Joseph for each track on the standard edition.
The next song, Fake You Out, I was really excited about this one when I first started writing it. I think that the melody inside of the verses is one of my favorite melodies where it goes to falsetto. I think that a lot of times I feel like writers slack on verses when it comes to melody. I feel like it's like "these are my verses, this is kind of the part where people wait for the chorus." And I've always felt like why not have the verses—the melody of the verses be just as infectious as the chorus? So I'm proud of this song in that way. Also, you know, it does the whole, you know, mash-up genre thing that everyone is freaking out about. Truly, I just didn't know that there were rules to song writing and, you know, so I just worked on transitioning from one genre to the next. I wanted to hear a song that did that. I've never heard a song do that before, I wanna hear that, so I made that. So this song is called Fake You Out.
Lyrics
I want to drive away
In the night, headlights call my name

I, I'll never be, be what you see inside
You say I'm not alone, but I am petrified
You say that you are close, is close the closest star?
You just feel twice as far, you just feel twice as far

And I'll fall
And I'll break
And I'll fake
All I wanna

And I'll fall down
And I'll break down
And I'll fake you out
All I wanna

I'm so afraid
Of what you have to say
'Cause I am quiet now
And silence gives you space

I'll never be, be what you see inside
You say I'm not alone, but I am petrified
You say that you are close, is close the closest star?
You just feel twice as far, you just feel twice as far

And I'll fall
And I'll break
And I'll fake
All I wanna

And I'll fall down
And I'll break down
And I'll fake you out
All I wanna

It's the same game today as it always is
I don't give these places fake my name explaining this
And the wrists of my mind have the bleeding lines
That remind me of all the times
I have committed
Dirty dirty crimes that are perfectly form-fitted
To what I've done and what I'm doing
I'm brewing and losing and spewing infusing
And believe me that's what all the kids are doing
What kids are doing are killing themselves
They feel they have no control of their prisoner's cell
And if you're one of them then you're one of me
And you would do almost anything just to feel free
Am I right, of course I am
Convince me otherwise would take all night
Before you walk away, there's one more thing I want to say
Our brains are sick but that's okay

I'll fake you out
I'll fake you out
And I'll break down
I'll fake you out

And I'll fall
And I'll break
And I'll fake
All I wanna

I'll fake you out
I'll fake you out
I'll fake you out
And I'll break down

I'll fake you out
I'll fake you out
I'll fake you out
And I'll break down

All I wanna
Yeah, and I'll fall down
And I'll break down
And I'll fake you out
All I wanna
Yeah, and I'll fall down
And I'll break down
And I'll fake you out
All I wanna

I'm so afraid
Of what you have to say
'Cause I am quiet now
And silence gives you space
Credits
Writers and producers
Tyler Joseph and Greg Wells
Recorded by
Ian MacGregor at Rocket Carousel Studio Los Angeles, CA
Programming
Tyler Joseph and Greg Wells
Piano, keys and ukulele
Tyler Joseph
Drums and auxiliary percussion
Josh Dun
Vocals
Tyler Joseph
Additional synths and keyboards
Greg Wells
Mixed by
Greg Wells at Rocket Carousel Studio Los Angeles, CA
Mastered by
Howie Weinberg & Dan Gerbarg at Howie Weinberg Mastering, Los Angeles, CA
Published by

Warner-Tamerlane Publishing Corp (BMI) / Fueled By Music (BMI) / Stryker Joseph Music (BMI)
All rights on behalf of itself and Stryker Joseph Music
Administered by Warner-Tamerlane Publishing Corp