We're Getting Mutants in the MCU - The Loop
Play Sound
Level of Concern is a song written and recorded by Twenty One Pilots and was released as a promotional single on April 9, 2020.
Background
Tyler Joseph took to his twitter on April 6, 2020 to announce a new song was coming[1]. He announced that a part of the money made from it would go to Crew Nation, a charity dedicated to helping live music venues and others involved in it who are suffering due to the quarantine measures and public gathering restrictions relating to COVID-19. On April 8, 2020, Tyler announced that the single would be released the following day with a video. He posted the single cover and the song title along with the message.
The song was conceived after Tyler's mom, Kelly Joseph, inspired him to write it to all the fans of the band during the COVID-19 pandemic quarantine. He decided to turn it into a love song about his wife Jenna.[2] Due to isolation, Joseph and Dun could only work on the song remotely. According to Tyler, the song is the first one he ever wrote on an electric guitar, stating "it's simple but hopeful".[3]
When asked about the song in an interview to Alternative Press, Dun said, "Tyler is my favourite songwriter and I think that ultimately he's great at writing happy-sounding songs and a lot of times he'll fight that within himself and try to dirty something up a little bit. It's fun to work with him and come up with all sorts of different feels and styles and something that feels a little bit darker and something that feels a little bit lighter. For this one, it really felt like it just needed to be a lighter feeling song and something that's a little bit more distractable."[4]
Official Video
On April 9, 2020, the official music video was uploaded to Twenty One Pilots' YouTube channel. The video features Tyler Joseph, Josh Dun, Jenna Joseph, Debby Ryan and Rosie Joseph.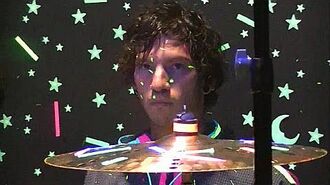 Lyric Video
On May 29, 2020, a lyric video created by New York-based Indonesian artist Pinot W. Ichwadardi and his family was uploaded to Twenty One Pilots' YouTube channel.
Live from Outside
On May 23, 2020, the song was performed on The Tonight Show Starring Jimmy Fallon's At Home Edition. The band was helped by longtime collaborators Paul Meany (keys, background vocals), Simon Jefferis (bass, keys, background vocals), Jesse Blum (trumpet, background vocals) and also by their fictional character Ned (guitar). The official audio of the performance was released three days later, titled "Level of Concern (Live from Outside)".
The song lyrics underwent some changes in the live performance, as well as an addition of a new verse during its bridge.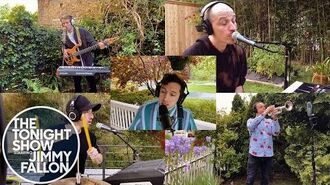 Never-Ending Video
On June 21, 2020, after a week-long Level of Concern scavenger hunt, Twenty One Pilots released a livestream titled Level of Concern (Never-Ending Music Video). A website, https://loc.twentyonepilots.com/, allows fans to submit to be in the music video. Every 3 minutes and 40 seconds, the music video restarts, and each time it restarts new fan videos show up.
The livestream lasted from June 21 to December 16, 2020, and was certified as the "longest music video" by Guinness World Records, clocking in at 177 days, 16 hours, 10 minutes, and 25 seconds.[5]
Lyrics
Need you to, tell me
Need you to, tell me

Panic on the brain, world has gone insane
Things are starting to get heavy, mmm
I can't help but think I haven't felt this way
Since I asked you to go steady
Wonderin' would you be my little quarantine?
Or is this the way it ends?

'Cause I told you my level of concern
But you walked by like you never heard
You could bring down my level of concern
Just need you to tell me we're alright, tell me we're okay

Panic on the brain, Michael's gone insane
Julie starts to make me nervous
I don't really care what they would say
I'm asking you to stay
In my bunker underneath the surface
Wonderin' would you be (Would you be)
My little quarantine? (Quarantine)
Or is this the way it ends?

'Cause I told you my level of concern
But you walked by like you never heard
You could bring down my level of concern
Just need you to tell me we're alright, tell me we're okay, yeah

Tell me we're alright, tell me we're okay, yeah
Tell me we're alright, tell me we're okay
Bring down my level of concern
Just need you to tell me we're alright, tell me we're okay, yeah

'Cause I told you my level of concern
But you walked by like you never heard
You could bring down my level of concern
Just need you to tell me we're alright, tell me we're okay
I need you to tell me we're alright, tell me we're okay
Need you to tell me we're alright, tell me we're okay
I need you to tell me we're alright, tell me we're okay
Need you to tell me we're alright, tell me we're okay
Need you now
I need you now

'Cause I told you my level of concern
But you walked by like you never heard
You could bring down my level of concern
Just need you to tell me we're alright, tell me we're okay, yeah

Tell me we're alright, tell me we're okay, yeah
Tell me we're alright, tell me we're okay
You could bring down my level of concern
Just need you to tell me we're alright, tell me we're okay, yeah

In a world where you could just lie to me (Need you)
And I'll be okay, we'll be okay (Level of concern)
We're gonna be okay (Just need you to tell me we're alright)
Tell me we're okay, I need you
Need you to, tell me
Need you to, tell me
Credits
Writer(s)
Tyler Joseph
Producer(s)
Tyler Joseph and Paul Meany
Recorded at
Tyler Joseph's home studio Columbus, OH
Engineered by
Adam Hawkins
Drums
Josh Dun
Vocals
Tyler Joseph
Mixed by
Adam Hawkins
Mastered by
Chris Gehringer
Published by
Fueled by Ramen
References